Description
Bio Super Amino 1000
Super Amino 10000 by Biobolics Nutrition is formulated to enhance muscle mass and strength in combination with intense training. It a must for you if you are an Active Individual or Athlete who is looking to increase their protein intake without adding calorie.
Biobolics Super Amino 10000 Benefits
High Performance Protein & Amino Complex
Extended Release Formula
Bolstered with BCAAs, Glutamine & Arginine
10000mg Amino Acid Profile
Amino Acids are building blocks of protein helpful with maintaining muscle mass, recovery and help protect your muscles from going into a catabolic state.
Bio Super Amino 10000 promotes Anabolic activity and is an Amino Acid Complex derived from Enzymatically Hydrolyzed Whey Isolate Protein. Because it is a Pre-digested protein it allows for an extremely fast assimilation into the bloodstream thereby enhancing Nitrogen Retention for Maximum Gains.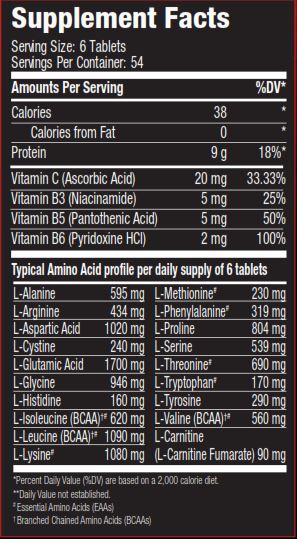 Quality assured Bio Super Amino 10000 provides your body with 9 grams of Protein & a full spectrum of Amino Acid Complex per serving.
Directions For Bio Super Amino 10000: As a dietary supplement, take 6 caplets  per day, before meals as well as before and after training. Always take caplets with plenty of fluid.
Note: All Biobolics Supplements Sold at Proteinsstore.com are Genuine, Best Best Amino in India