Description
Gaspari Nutrition IntraPro  Whey Protein
Gaspari Nutrition IntraPro Whey Protein was formulated to be one of the most advanced premium whey protein matrices ever developed. It is an amazing blend of whey protein isolate, whey protein hydrolyzed  and whey protein concentrate. It was created to give your body everything is needs through rapid digestion, high bioavailability and maximum lean muscle mass growth and preservation. No other protein comes close to the quality and tastes that Gaspari Nutrition IntraPro Whey Protein offers. No matter if you are a fitness enthusiast, bodybuilder or athlete,Gaspari Nutrition IntraPro Whey Protien can benefit you!
Results and  Benefits
If you are looking to build more lean muscle, increase recovery and preserve more muscle, you need IntraPro Whey Protein from Gaspari Nutrition.
High Doses of BCAA's
Increase Protein Synthesis
High Bioavailability
Zero Fillers
No Amino Spiking
Low in Sugar & Fat
Great for Both Men and Women
24 Grams of Protein Per Serving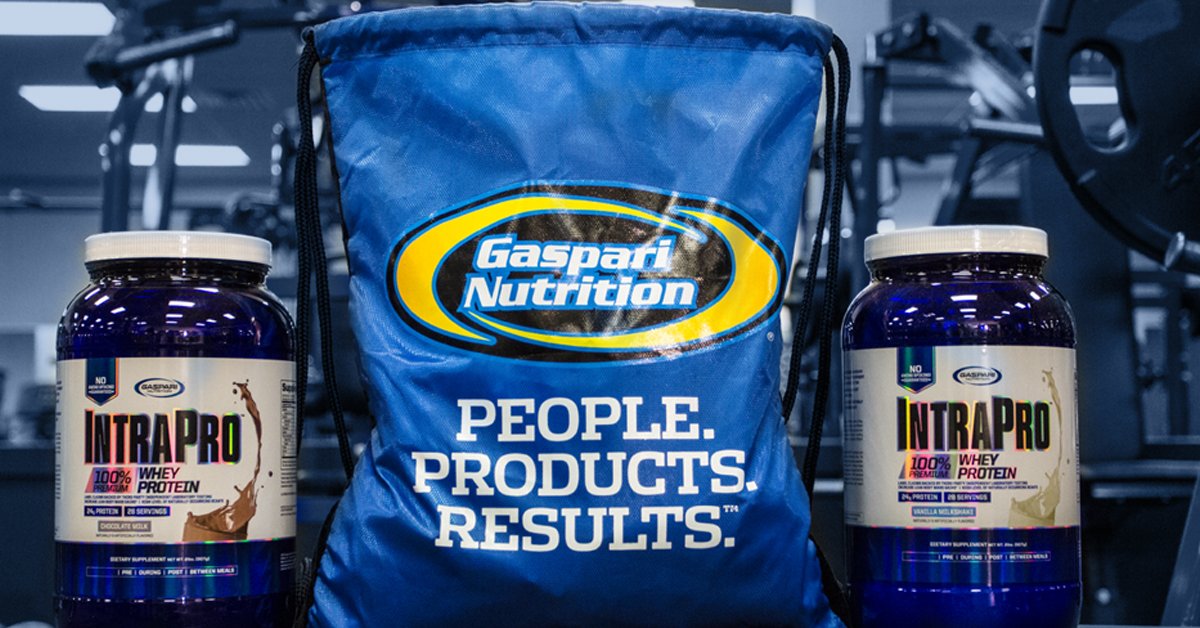 Gaspari Nutrition IntraPro Whey Protein Commitment
Gaspari Nutrition  has a commitment to only the best quality whey protein and guarantees the purity and quality of this product by running it through third party lab analysis for every product batch. You can see these results at the Gaspari Nutrition website. This means you are always going to get what you pay for with Gaspari Nutrition.
Directions and  Dosage of Gaspari Nutrition IntraPro Whey Protein
Gaspari Nutrition recommends you either shake, stir or blend up IntraPro . You can mix up 1 serving with 4 to 8 ounces of cold water or your favorite beverage. Drink as many servings as you need to meet your daily protein requirements.
Supplement and Nutrition Facts
Serving Size 1 Scoop
Servings Per Container 28
Calories 120
Calories from Fat 10
Total Fat 1 g 2%
Saturated Fat 0.5 g 5%
Trans Fat 0 g
Cholesterol 15 mg 5%
Sodium 100 mg 4%
Total Carbohydrate 4 g 1%
Dietary Fiber 1 g 4%
Sugars 1 g
Protein 24 g 48%
Calcium 10%
Iron 50%
Other Ingredients: IntraPro Protein Blend (Whey Protein Concentrate, Whey Protein Isolate, Whey Protein Hydrolysate), Cocoa Powder, Natural & Artificial Flavors, Lecithin, Salt, Thickeners (Cellulose Gum, Xanthan Gum), Sucralose, Acesulfam-Potassium.
Allergen Information: Contains Milk and Soy (Lecithin) Ingredients. Keep out of reach of children. Store in a cool, dry place.
Note : Gaspari Nutrition Supplement product sold in india by proteinsstore.com are 100% genuine and authentic .Whey Proteins