Description
MusclePharm Glutamine Post Workout
Musclepharm Glutamine post workout is pharmaceutical quality post workout recovery powder and it supports rebuilding and recovery from the toughest workouts. It minimize muscle breakdown and support tremendous strength and stamina.
MusclePharm Glutamine Post Workout info
MP Glutamine post workout is rapidly absorbed glutamine complex and enhances muscle recovery and growth. It includes increased recovery and growth hormone facilitation. It enhances rehydration and endurance, which leaves you with more power in the fitness center.
MusclePharm Glutamine Post Workout facts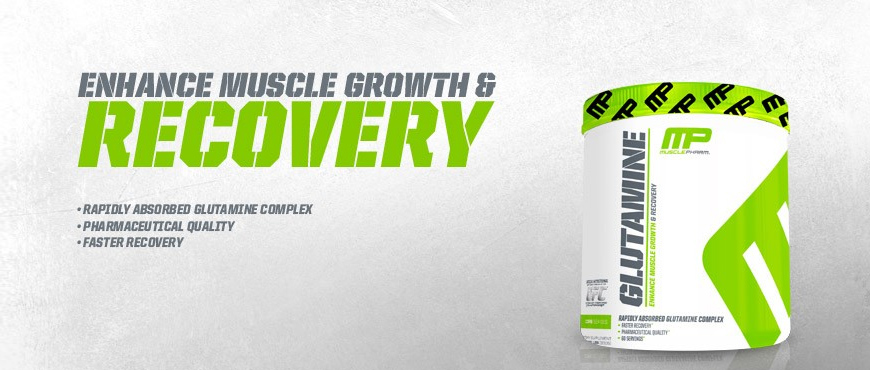 MP glutamine fuel the athletes inside, as an athelete your body needs glutamine. It contains three types of glutamine: l-glutamine, glutamine peptides, and alanyl-l-glutamine. These assists in muscle growth, recovery, time and digestion.
MusclePharm Glutamine Post Workout benefits
It reduces muscle breakdown and support an anabolic environment
Minimized muscle catabolism
There is no bad side effects
MP glutamine post workout increases protein synthesis and supports immune system
It increases glutamine availability and absorption
Promotes excellent strength and solubility
It supports intestinal health and boosts the immune system
It enhances rehydration and improves stamina
MusclePharm Glutamine Post Workout Side effects
Muscle Pharm glutamine is quick recovery powder after exercise. It is an award winning supplement and we never heard about any bad effects on it. It's a best supplement used by people around the world.
MusclePharm Glutamine Post Workout ingredients are:
Glutamine Blend                                                  5,000mg
(L-Glutamine, L-Alanyl-L-Glutamine).
It contains milk, egg, soybeans, shellfish, fish, tree nuts, wheat and peanuts.
Directions of MusclePharm Glutamine Post Workout:
Mixes three scoops (5g) of MP Glutamine with 200 ml of water twice in a day. Please drink plenty of water every day. Do not surpass the suggested daily dose. Seek advice from a medical doctor prior to use if you have any medical conditions.
Note: All MusclePharm Supplements sold at Proteinsstore.com are 100% Genuine. Buy Best Pre workout Supplement in India.