Description
MuscleTech BCAA Tablets
Muscletech BCAA promotes muscle protein synthesis. It contains 1000mg of pure bcaa's to ensure that your muscles are ready.
MuscleTech BCAA Tablets Information
MuscleTech Platinum BCAA is a branched chain amino acids formula that is formulated with BCAA ratio 8:1:1 (like leucine, isoleucine, valine). It gives more ratio other BCAA's available in the market to load your muscle with leucine with each serving.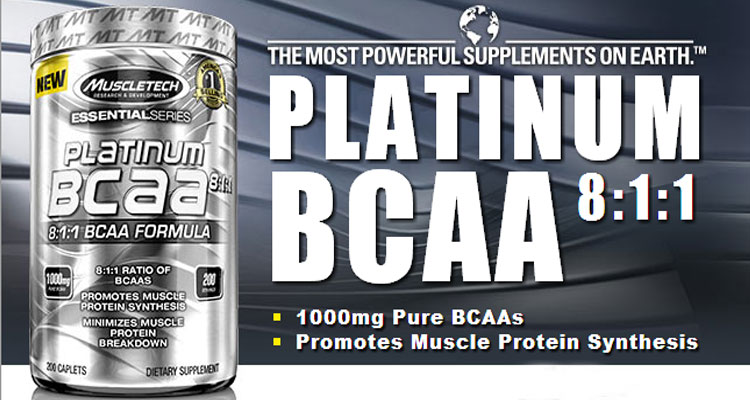 MuscleTech BCAA Supplement Facts
MuscleTech Platinum BCAA guarantee your muscles get the essential BCAA (leucine, isoleucine, and valine) in defined dose as mentioned. It is free of stimulants, also help to stack for actual results.
MuscleTech Platinum BCAA Benefits
It promotes increased muscle growth and strength
It help to increase lean body mass
It is helping in fat loss
It stimulates muscle growth.
It supports training endurance
It helps to maintain muscle recovery and repair
It increases workout performance
It enhances muscle protein synthesis
It promotes faster recovery.
MuscleTech BCAA Side effects
MuscleTech Platinum BCAA Tablets is best supplement in the world. It is an award winning supplement and we never heard about any bad effects on it. It's a best supplement used by people around the world.
MuscleTech BCAA ingredients are:
Amount per Serving                                                                         % Daily Value
8:1:1 BCAA Matrix
L-leucine                                                                                            800 mg
L-isoleucine                                                                                       100 mg
L-valine                                                                                              100 mg
MuscleTech Platinum BCAAs Other Ingredients:
Muscletech Platinum BCAA supplement also includes Microcrystalline Cellulose, Hydroxypropylcellulose, Carboxymethylcellulose Sodium, Hydrogenated Cottonseed Oil, Coating (Titanium Dioxide, Polyethylene Glycol, Talc), Magnesium Stearate, Silica, Acesulfame-Potassium, etc.
Directions of MuscleTech BCAA Tablets :
Consume 1-2 serving per day before/after workout. For best Results take 5 servings per day. Please drink plenty of water every day. Do not surpass the suggested daily dose. Ask advice from a medical doctor prior to use if you have any medical conditions.
Note: All MuscleTech Supplements sold at Proteinsstore.com are 100% Genuine. Buy Best BCAAs Supplement in India.