Description
Muscletech Hydroxycut SX-7 Black Onyx
Muscletech Hydroxycut SX-7 Black Onyx is a Powerfull weight Loss formula
Added salvia, theanine & elderberry for a powerful sensory experience
Extreme energy & mental focus
Features satsuma orange supplying beta-cryptoxanthin
HYDROXYCUT SX-7 BLACK ONYX IS THE MOST HARDCORE WEIGHT LOSS & ULTIMATE SENSORY EXPERIENCE!
New Muscletech Hydroxycut SX-7  Black Onyx  is the most hardcore and cutting-edge formula on the market today. Muscletech Hydroxycut SX-7 Black Onyx Supercharged with 6 premium ingredients in a never-before-seen combination, this superior formula is designed for extreme energy and mental focus. Just one dose delivers an unrivalled sensory overload unlike anything you've ever tried!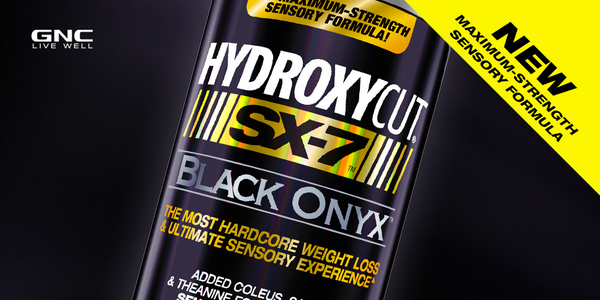 6 PREMIUM CUTTING-EDGE INGREDIENTS
Elderberry
Elderberry contributes to the overall unique sensory experience.
Salvia miltiorrhiza
An herb with long-standing traditional use known to contain various phenolic acids such as danshensu and salvinolic acid B, as well as diterpene compounds such as cryptotanshinone. Salvia has been added to enhance the sensory experience.
Theanine
An amino acid that contributes to the unique sensory experience.
Green coffee bean extract
Subjects taking 200mg of premium green coffee standardized to 45% chlorogenic acids lost 10.95 lbs. in 60 days with a low-calorie diet, and 3.7 lbs. In 8 weeks with a calorie-reduced diet and moderate exercise.
Caffeine anhydrous
Scientifically researched ingredient shown to enhance thermogenesis, increase energy and enhance mental focus.
Satsuma orange supplying beta-cryptoxanthin
An ancient Japanese citrus fruit containing the unique active carotenoid compound beta-cryptoxanthin.
HOW TO TAKE HYDROXYCUT SX-7 BLACK ONYX
Take 1 capsule 2 times daily, 30 to 60 minutes before your two largest meals (e.g., breakfast and lunch). For best results, use for 60 days in combination with diet and training. If you are looking for an additional boost of energy, take an additional capsule with the first serving of the day, Do not exceed 3 capsules in a 24-hour period.
Note- Muscletech Supplement Product Sold On Proteinsstore.com are 100% genuine. Find More Weight Loss