Description
Optimum Nutrition Whey
Optimum Nutrition whey protein is muscle building protein. It supplies 24g of whey protein with amino acids for muscle recovery and growth.
Optimum nutrition gold standard Whey Protein
Optimum whey protein contains 24 grams of protein, 5.5 grams of BCAA's, 4 grams of glutamine & glutamic acid. It is most costly and famous supplement in India.
Optimum Nutrition Facts
Optimum whey protein contains isolates protein that is purest form of protein. Its main ingredient is whey protein. Each serving of ON Gold standard give you 24grams of fast digesting whey protein with low levels of fat, cholesterol, lactose and etc.
Optimum Nutrition Whey Benefits
Optimum nutrition review is excellent on Bodybuilding
Optimum whey protein contains 24g of pure protein.
Optimum whey protein supports muscle recovery and growth.
Optimum whey protein tastes good any other protein.
Optimum whey protein is rapid digesting protein.
No need of your post workout shakes like glutamine, its enough.
It mixes with ease
It increases workout performance
Optimum nutrition whey price is expensive any other similar Products
Optimum nutrition whey Side effects
Optimum whey protein powder is best supplement in the world. It is an award winning supplement and we never heard about any bad effects on it. It's a best supplement used by people around the world.
Optimum nutrition whey Ingredients are: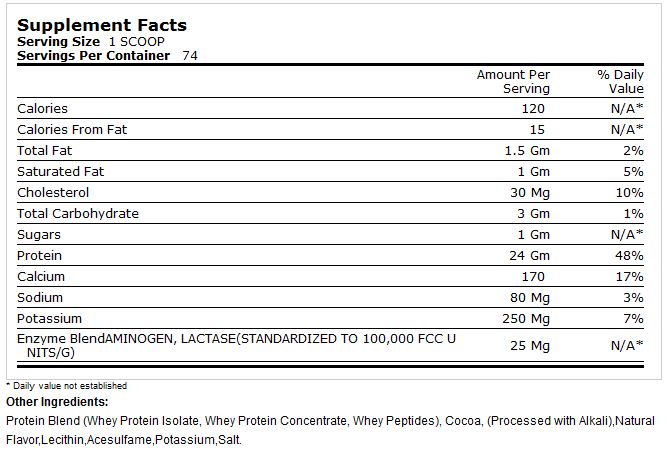 Other Ingredients–
Optimum whey Protein supplement contains Protein Blend (Whey Protein Isolates, Whey Protein Concentrate, Whey Peptides), Lecithin, Natural And Artificial Flavors, Citric Acid, Sucralose, FD&C Red #40, Aminogen, Lactase.
Directions of Optimum nutrition Whey Protein Powder:
As a Dietary supplement, Mix one scoop of gold standard in 200-300ml with Milk or Juice after workout for best results. Please drink plenty of water every day.
Note: All Optimum Nutrition Supplements sold at Proteinsstore.com are 100% Genuine. Buy Best Whey Proteins Supplement in India.