Description
Universal Animal Whey
Universal animal whey is isolate protein powder to support muscle building. It is packed with whey protein isolate to add on the more protein requirements of body builders and athletes.
Universal Animal Whey Protein Info
Universal animal whey protein powder has digestive enzymes added for improved absorption and digestibility. It is loaded with high quality whey protein isolate.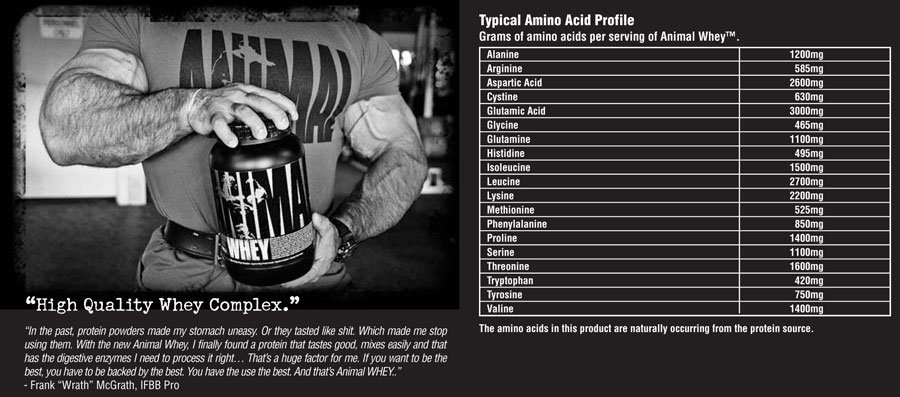 Universal Nutrition Animal Whey Facts
Universal Animal Whey is made up with milk, soy, egg, peanuts, tree nuts, fish, shellfish, and wheat. It comes in amazing flavors like Chocolate, Cookies & Cream, Vanilla, etc.
Universal Nutrition Animal Whey Benefits
It contains 25g of pure protein.
It supports muscle recovery and growth.
It tastes good any other protein.
It is rapid digesting protein.
It is instantized to mix easily.
Universal Nutrition Animal Whey Side Effects
Universal Animal Whey Protein Powder Supplement is best supplement in the world. It is an award winning supplement and we never heard about any bad effects on it. It's a best supplement used by people in India.
Universal Nutrition Animal Whey Ingredients Are:
Amount per Serving                                           % Daily           Value
Calories                                                                      121
Calories From Fat                                                     9
Total Fat                                                                     1 g                   2%
Saturated Fat                                                            .5 g                  3%
Trans Fat                                                                   0 g
Cholesterol                                                                31 mg             10%
Sodium                                                                       146 mg           6%
Potassium                                                                  264 mg           8%
Total Carbohydrate                                                  3 g                   1%
Dietary Fiber                                                             1 g                   4%
Sugars                                                                         1 g
Protein                                                                       25 g                 50%
Other Ingredients-
Universal Animal Whey Protein Powder also contains Animal Whey Protein Blend, Cocoa, Natural and Artificial chocolate mint Flavors, Lecithin (Soy), Cellulose Gum, Xanthan Gum, Carrageenan, Sodium Chloride, Acesulfame Potassium, Sucralose, Animal Whey Digestive Enzyme Blend, etc.
Directions of Universal Nutrition Animal Whey Protein Powder :
As a food supplement, add one scoop of universal animal whey per day after exercise. For optimal use, take 2 scoops every day after workout. Ask advice from a medical doctor prior to use if you have any medical conditions.
Note: All Universal Nutrition Supplements sold at Proteinsstore.com are 100% Genuine. Buy Best Whey Proteins Supplement in India.